By Idaho Press | April 12, 2019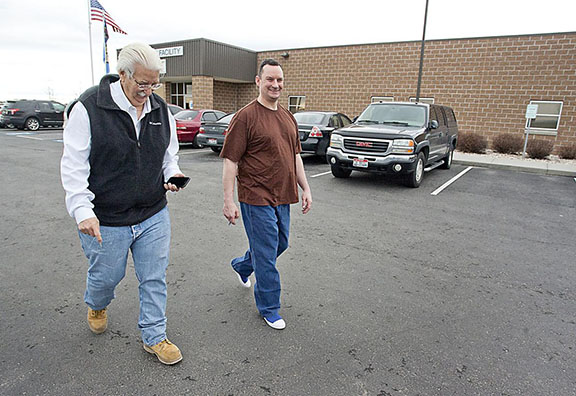 BOISE — Jeremy Cunningham didn't know who was picking him up from prison, but he certainly wasn't expecting a familiar face.
"Wait, I know you," he said, shaking an older man's hand with a broad smile on his face. "It's a small world."
Cunningham, 43, was handed a small paper bag of his belongings in the detention center lobby in south Ada County and followed Mark Renick out into the drizzly Monday morning air. For the second time, he climbed into the passenger seat of Renick's car, and they set off for Boise to help get his feet back under him after four months behind bars at the Idaho Correctional Alternative Placement Program facility in Kuna.
Renick is the state coordinator for re-entry services for St. Vincent de Paul, a Catholic volunteer organization. With a team of almost a dozen volunteers, he assists 12 to 17 people a week in the first hours after their release from prison. Most often it starts with a simple car ride from prison and a hot breakfast immediately after being released but can go as far as rental assistance, help finding employment and support from others looking to get back on track after serving time.
"We don't know who they are; all we know is they need a ride," Renick said. "It doesn't matter if they've been in two years or 10 years, a lot of things are changing for them very quickly."….full story